Venue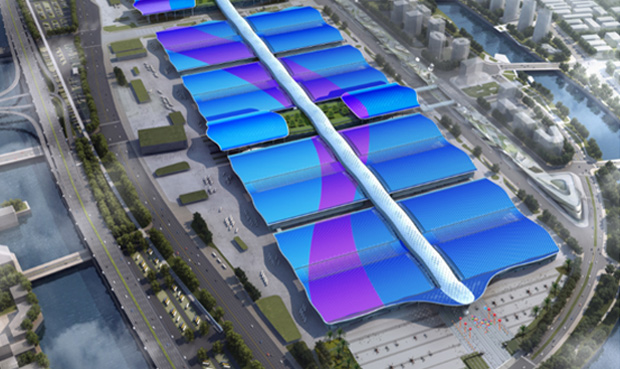 Shenzhen World Exhibition&Convention Center
Metro -- Guozhan Station of Metro Line 12 and 20
Shenzhen World Exhibition&Convention Center, No.1, Zhancheng Road, Fuhai Street, Baoan District, Shenzhen
Shenzhen World Exhibition&Convention Center is adjacent to Shenzhen Baoan International Airport, Fuyong Wharf and the Guangzhou-Shenzhen Expressway. It is direct access to the subway and the city rails which has convenient transportation resources.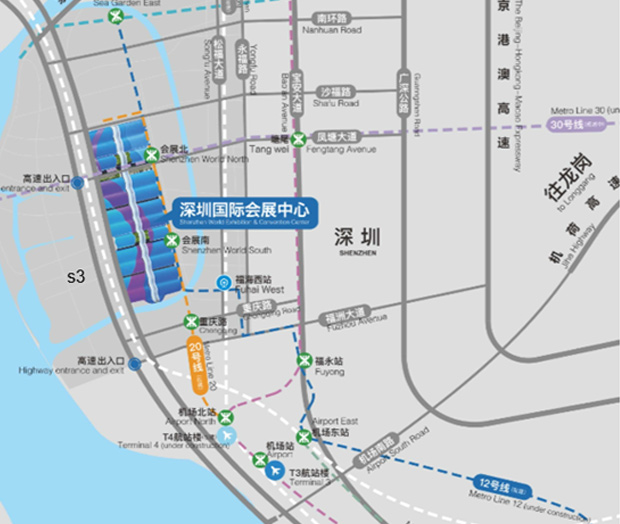 It is 7 kilometers away from the T3 terminal of Shenzhen Airport, 3 kilometers away from the T4 hub of Shenzhen Airport and only 75 kilometers away from Hong Kong Airport.
It is close to Fuyong Ferry Terminal and takes only one hour to get to Hong Kong Airport by boat from Fuyong Ferry Terminal.
It is connected to two expressways (Yangjiang Expressway and Guangzhou-Shenzhen Expressway) and an expressway (Binjiang Avenue). The interchange project of the Guangzhou-Shenzhen Expressway Phase II International Convention and Exhibition Center, which is mainly based on the toll booth of the International Convention and Exhibition Center, is already open to traffic. The interchange will also connect the Shenzhen-China Expressway, Jihe Expressway and the Baoan International Airport.
The Fuyong Station and Qiaotou Station of Metro Line 11 which is currently open for operation are about 5 kilometers away from the exhibition hall. The subway lines 12 and 20 still under construction are directly connected to the two subway stations of the exhibition hall (Meeting South Station and Exhibition North Station); Line 20 is directly accessible from the exhibition hall to the North Station of the airport, and can be connected to the opened subway. Line 11 and Guangzhou-Chongqing deep intercity line transfer; Line 12 will be connected to Dongguan Metro Line 2.
It is adjacent to the Shenmao Railway and the Suiguan-Dongcheng Intercity Railway Shenzhen Section, the Suiguan-Dongcheng Intercity Railway is scheduled to open in 2019, and the Shenmao Railway is under construction. The planning and construction of the Shenzhen Airport High Speed Railway Station has been officially approved.
It will be equipped with smart bus, connecting to Tangwei Station of Metro Station Line 11, and going back and forth between the exhibition hall and the surrounding subway stations, bus stations, commercial centers, hotels and other places.