Beyond Imagination: LEAP Expo 2019 Closes with Successes
Time:     Author:     
With a dazzling show of smart manufacturing technology to the South China market, LEAP Expo 2019 closed with successful figures on Oct.12. The exhibition was jointly created by Messe Muenchen Shanghai Co., Ltd., China Council for the Promotion of International Trade Machinery Sub-Council (CCPIT), Chinese Optical Society - Laser Processing Committee (COS-LPC) and China Machine Vision Industry Union (CMVU).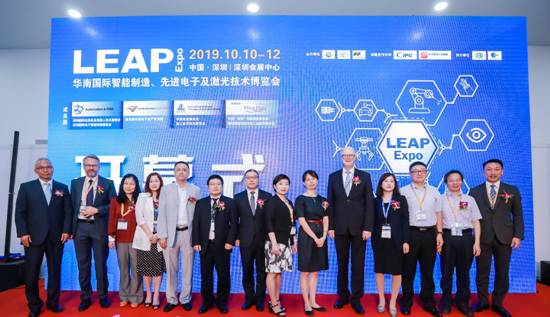 Four leading smart manufacturing exhibitions are held together for the first time in Shenzhen, including three member exhibitions of LEAP Expo - Automation & EMA, productronica South China and Laser South China, and concurrent exhibition: Vision China (Shenzhen). Their co-location offers a complete display of the intelligent manufacturing industry chain. About 400 exhibitors brought their high-tech products and best solutions, attracting a total of 18,537 professional visitors, 13.8% more than last year.
Ms. Xu Jia, CEO (Greater China) of Messe Muenchen Shanghai Co., Ltd. spoke highly of LEAP Expo 2019, "Driven by smart technologies such as 5G, artificial intelligence, and internet of things, LEAP Expo has been constantly upgraded and has provided more valuable, innovative and cutting-edge technologies, advanced products and solutions to the industry. I am very happy about the successful figures LEAP Expo 2019 has made. In 2020, LEAP Expo will change its venue to Shenzhen World Convention and Exhibition Center, and electronica South China will also join in the quartet. An unprecedented quintet is now in sight. Let's look forward to the new leaps and advances LEAP Expo is going to make!"
High-end Smart Factory in the 5G Era
An In-depth Interpretation of "Visualized Manufacturing, Big Data, High Intelligence & Reliability, Dark Factory and Digitalization"

Co-hosted by IPC and Messe Muenchen Shanghai Co., Ltd., the IPC CFX Demo Line is open again at LEAP Expo 2019. The line conforms to the IPC-CFX-2591 and IPC-HERMES-9852 standards and fully visualizes the manufacturing process. With other leading brands and companies, including Haina Zhilian, JWI Software Ltd., Sonic Technology Co., Ltd. Test Research, Inc., Keysight Technologies, Nihon Superior, Universal, Huawei, GKG Precision Machine Co., Ltd., ALeader Europe Ltd., GUANGDONG NEWOXY TECHNOLOGY CO.,LTD., XIYANJING, Anda Automation, Shenzhen Jaguar Automation Equipment Co., Ltd., and WEC Automation Equipment Manufacturing Co., Ltd., the IPC CFX Demo Line reproduced a complete production line at LEAP Expo 2019 and offered competitive solutions and a more complete end-to-end manufacturing system to enterprises both upstream and downstream, a perfect exemplification of the successful industrial application of the big data technology.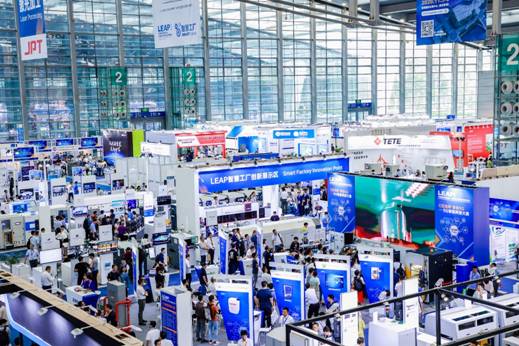 The Smart Factory exhibited the entire smart manufacturing process from intelligent warehousing to automated production line under a central monitoring system. Mycronic exhibited its MYPro series, including a solder paste printer, a new placement machine set, 3D SPI, 3D AOI and smart component warehouses. They composed a high-end hybrid intelligent production line fit for any batch quantity and quality. General Technolgies (Asia) Co.,Ltd ("G-TEC"), teaming up with Ersa, Viscom, Koh Young, Universal, and KNE, showcased a high-reliability SMT production line supported by the 5G technology. Zhuhai Daming Technology also launched a smart factory solution that integrates dark factory, C2M, intelligent logistics and digital analysis technologies.
Leading SMT, adhesive dispensing and wire harness processing brands also showcased their selected solutions. Among them are Ersa, Rehm, SMT, Electrolube, JUKI, B&P Automation Dynamics Ltd., SCIENSCOPE, ViscoTec, HollySys, TAEHA, DOPAG, axxon, Mingseal, Neotel technology, JAM, Soltec, Hiprecise, THB, JUNQUAN, BOZWANG, Wuxi Airstorm Technology Co., Ltd., Hari Technology, Shenzhen Linquan Technology Co., Ltd., and WINGUD.
The Smart Manufacturing Area & AGV SHOW
The Glory of Automation with Leading Brands
Mr. Sun Xitian, President of China Council for the Promotion of International Trade Machinery Sub-Council, spoke highly of the exhibition, "Automation & EMA is part of the LEAP exhibitions. They aim to build a professional high-tech exhibition of intelligent manufacturing and integrated automation solutions for the Chinese electronics manufacturing industry. It also provides important stages for the exhibition of intelligent industrial manufacturing strategies. They offer opportunities and ideas to integrate innovations and apply new engineering technologies that combines next-generation information technology and manufacturing equipment."
At LEAP Expo 2019, almost all leading brands in automation and robotics appeared with their latest technologies, products and solutions – SIASUN, HRG, HEXAGON, General Robots, Shenyang Dongchuang, IPLUS MOBOT, Lianfeng Automation, SUN YOUNGS, Manly (Beijing) Robot Technology Co., Ltd., BRADY, Testron Technology (Jiangsu) Co., Ltd., Standard Robots, ROKAE, LianyuLianjue, Peach Automation, Seiko Bearing, HCCT came with a stunning production line capable of automatic, multi-process, hybrid manufacturing of different small parts. It is a perfect interpretation of how efficient an unmanned factory can be. The AGV SHOW combined new product releases, technical lectures and live demonstrations to show how AGV can be used in machinery processing, home appliance manufacturing, micro-electronics manufacturing and warehousing. The show is favoured by a lot of visitors.
Mr. Chen Guo, Deputy Operations Director at HEXAGON, said, " The LEAP Expo 2019 organized by Messe Muenchen Shanghai Co., Ltd. is widely accepted in the industry for both the quality of exhibitors and the professionalism of the visitors. HEXAGON is a loyal exhibitor at LEAP Expo and we hope that it will serve as an exchange platform of new electronics technologies in South China. We also hope it will make further progresses in the future."

New Laser Processing Technology & Laser Production Solutions
One-stop Solutions Platform to Celebrate the 15th Anniversary of Laser World of Photonics
Professor Tang Xiahui from Huazhong University of Science and Technology, a Standing Committee Member of Chinese Optical Society-Laser Processing Committee, mentioned, "A new round of technological and industrial revolution is providing new momentum for China's economic transformation. Intelligent laser manufacturing, as an integration of technologies from multiple disciplines, is making one of the key technologies and a core industry of the " Made in China 2025" initiative. The aim of LEAP Expo is to promote advanced laser products that meet the needs of the industry. This year it once again built a business and communication platform for SMEs and users, which is crucial to the rapid development of China's laser processing industry."

At Laser South China, nearly 100 major laser brands including HTTECH, Han's Laser, TRUMPF, FANUC, Precitec, TETE LASER, Shenzhen Inte Laser Technology Co.,Ltd.,United Winners, YIFI LASER, MARPOSS, PENTA LASER, DGSMARTWIN, SMARTPRIMA, Wuxi Lead Intelligent Equipment Co., Ltd, Ruihua, Huaray Precision Laser, JPT, Maxphotonics, JENOPTIK, INNGU LASER, LOGAN laser, Suzhou Everbright Photonics Co., Ltd, Suzhou Bellin Laser Co., Ltd, SHANGHAI FRIENDESS ELECTRONICS TECHNOLOGY CO., LTD., JENOPTIK, Dimplex, INNO LASER, HANTONG, LINITIALASE TECHNOLOGIES, HiteVision, made a comprehensive display of advanced laser precision processing technologies as precision welding, cutting, drilling, marking, surface processing and cleaning. With new product releases and technical exchanges, the exhibition provides a one-stop platform for learning about the applications of laser precision processing in 5G communication, power battery, consumer electronics, touch screen, photovoltaic, and medical industries
Mr. Zeng Jianfeng, Brand Director of Maxphotonics Co., Ltd., expressed his good wishes, "LEAP Expo 2019 targets at the laser processing market in South China and focuses on the electronics and automotive industries, while also addressing other industries as metal processing, mold, home appliances, and communications. It provides tailored laser processing and intelligent manufacturing products and solutions for potential laser processing users in South China. I am very confident in the development of LEAP and wish the Laser South China grow bigger and better!" Laser South China 2019 also raised the curtain of the 15th anniversary of the Laser World of Photonics. Through this grand event, the elites of the laser industry had one of their most memorable events.
Machine Vision Solutions & High-quality Forums
Cross-disciplinary Exchanges on the Future of Machine Vision
Mr. Ding Shaohua, Vice President of China Machine Vision Industry Union, was delighted to express, "In recent years, machine vision technology has developed rapidly in various directions, embedded systems, 3D vision, deep learning and multi-spectral vision. The driving force behind such progress is far beyond the technology itself but more importantly the needs from applications such as drones, autopilot, robots, and artificial intelligence. As more people are joining the machine vision industry, they will make more technological innovations and bring more opportunities to the industry."
More than 100 brands including OPTO, FLIR, Allied Vision, Teledyne Lumenera, LMI, CCS, Euresys, Inspiraz, OZRAY, Hikrobot, LUSTER, DAHENG IMAGING, CanRill, SENZHONG, Vistek, Wordop, SUNRISE Automation, exhibited at Vision China (Shenzhen) with their innovative applications in industrial inspection, defect detection, visual positioning and intelligent manufacturing. With the "Vision Plus X" concept, different categories of products are linked together to explore new machine vision applications. At the support forums, experts made heated discussion on the application of AI + Machine Vision in the electronics industry. The audiences all expressed their gratitude and desire to hear more. The Booth Party + Happy Hour activities offered opportunities for relaxed communication and trade between the exhibitors and visitors.

Mr. Li Xiaoxi, General Sales Manager of LAONPEOPLE, said: "This is our first participation in Vision China (Shenzhen) 2019. I am very satisfied. Machine vision is developing very fast in China, and we have kept a close eye on the Chinese market. At LEAP Expo 2019, we met some manufacturers of screens and equipment. They are just the customers we have always wanted to find, which is very helpful to our business development. As the exhibition is moving to a new venue next year, it will be more convenient for us."
15 Industry Forums, 4 Contests
A Competition of Industry Elites, of Wisdom and Practice
15 industry forums were held along with LEAP Expo 2019 and were all well accepted. About 65 leading experts offered their insight on the future of the industry and the challenges it faces.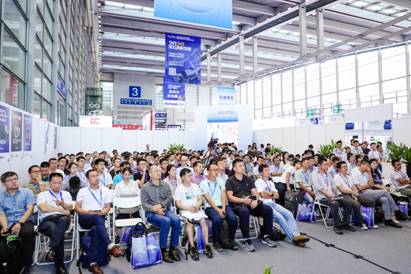 The IPC CWAC Cable Harness Assembly Competition and the IPC HSRC Manual Welding Rework Competition - China Championship kicked off at the LEAP Expo 2019. The competition, jointly organized by IPC and Messe Muenchen Shanghai Co., Ltd., proved to be one of the favourites of the visitors. At the other end of the hall, the 8th " Goodmate & Tianlu Cup" China Sheet Metal Craft Design and Production Competition, hosted by Shenzhen Metal Sheet Industry Association and co-organized by Messe Muenchen Shanghai Co., Ltd., invited 43 leading enterprises from China, Japan, Australia and Philippines to compete on the same stage. Meanwhile, the 5G Intelligent Welding Competition co-organized by Messe Muenchen Shanghai Co., Ltd. and ERSA also made a stunning debut.
Upgraded Visiting Tours
Careful Match-making Offers More Business Opportunities
Visiting groups from the automotive, industrial, communication systems, medical, consumer electronics, industrial electronics, electric power, and new energy industries took part in the LEAP Expo 2019 guided tours. The visitor groups, headed by leading brands as Foxconn, Flex International Ltd, Huawei, Lenovo, Midea, Skyworth, BYD Electronics, ZTE, Sunwoda, Wistron, and Gree Electric, DESAY SY AUTOMOTIVE, Valeo made in-depth talks with the exhibitors.
Thanks to the partners, exhibitors, experts, visitor groups, professional visitors and friends from the media, we have jointly built and witnessed a successful upgrade of LEAP Expo 2019. LEAP Expo 2020 will be held at the new hall of Shenzhen World Exhibition & Convention Center (Bao'an) on Nov.3-5,2020, and it will mark the start of a new model, a new leap, a new integration, and a new upgrade! We are all looking forward to it !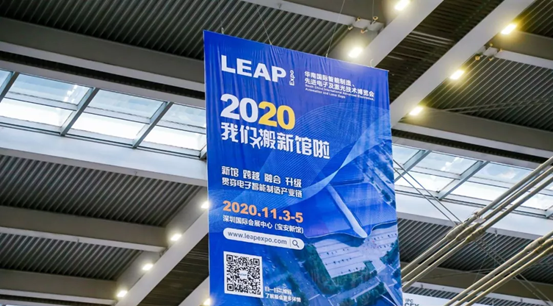 Click to
www.leapexpo.com
to learn more exhibition information.
Contact Us
Exhibition Consultation
Messe Muenchen Shanghai Co., Ltd.
Ms. Sinisa Xing
Tel: +86 21- 2020 5553
sinsia.xing@mm-sh.com
Marketing & Media
Messe Muenchen Shanghai Co., Ltd.
Ms. Katrina Dong
Tel: +86 21 2020 5645
katrina.dong@mm-sh.com