Visitor Data Witnesses the Continued Upgrading of LEAP Expo
Time:     Author:     
Messe München Shanghai Co., Ltd., working in conjunction with China Council for the Promotion of International Trade Machinery Sub-Council, Laser Processing Committee of COS and China Machine Vision Industry Union, hosts LEAP Expo 2020 at Shenzhen World Exhibition & Convention Center on November 3-5. LEAP Expo 2020 will be fully upgraded with a synergy of five exhibitions: Automation & EMA, productronica South China, Laser South China, electronica South China, and VisionChina (ShenZhen) which took place during the same period.
According the organizer's statistics, the number of visitors of LEAP Expo 2019 stands at 18,375. Given the one-year preparation and various supporting services offline, the number of visitors this year grows by 13.8% comparing with 2018.
92% visitors benefited from visiting LEAP Expo
96% visitors will recommend LEAP Expo to business partners and colleagues
96% visitors will visit LEAP Expo 2020 (Shenzhen World Exhibition & Convention Center, November 3-5)
Meanwhile, we also found that visitors intended to generate market trends and information about new product launching, study the competition, and maintain and build up business relationship through visiting LEAP Expo. Given the feedback information, we can acquire a lot of useful information on the market direction. Please follow us and check the exact demand of and feedback from visitors andbuyers.
01 Visitor Profile
According to the data, visitors are mainly composed of end product manufacturer, EMS/OEM, and suppliers of manufacturing equipment. Given visitors' job function, a relatively large proportion belongs to Research & Development/design, production/manufacturing, project/engineer and management personnel.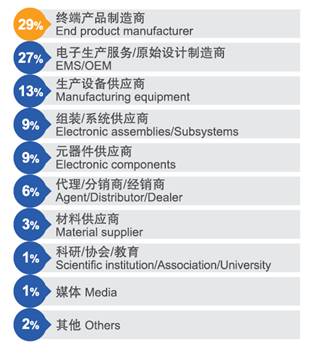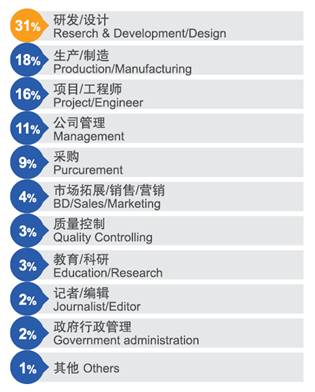 02 Business Scope of Visiting Companies
Most of the visitors come from industrial electronics, consumer electronics, automotive, medical, communication systems and other fields of application. Driven by the background of Industry 4.0 and new technological development, these fields are witnessing promising development prospects and trends.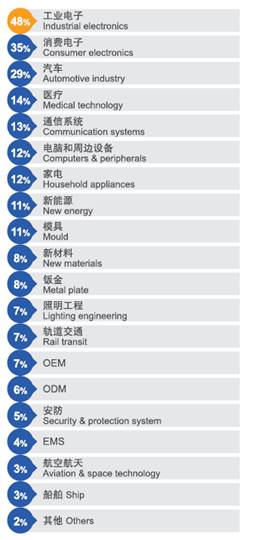 03 Visitors' Preferred Products
LEAP Expo 2019 had introduced a more diverse range of exhibitors and products. What draw much attention from the visitors were the high-end smart equipment, industrial robots and smart mounting and assembly technology.


04 Visitor Groups
Boasting the professionalism, LEAP Expo 2019 had attracted numerous cutting-edge enterprises, including Foxconn Technology Group, Flex International Ltd., Huawei Technologies, Lenovo Group, Midea, Shenzhen Skyworth, Huizhou BYD Electronic Co., Ltd, ZTE Corporation, sunwoda, wistron, Gree Electric Appliances Inc. of Zhuhai, DESAY SV AUTOMOTIVE and Valeo, from automotive, industrial, communication system, medical, consumer electronics, industrial electronics, electric power, new energy and other fields of application, to be present to conduct the relevant business communication with exhibitors.
05 Visitors' Comments
Li You, Design Engineer of the First Product Center, Fifth Business Unit of BYD (China)
LEAP Expo 2019 is a successful event with many exhibitors and orderliness. We were deeply impressed by the automation production line, SMT assembly equipment, laser technology and machine vision. Colleagues commented that the exhibition is in line with the manufacturing enterprises, and they have achieved some results in varying degrees. In addition, the forums organized by the exhibition were also illuminating and meaningful for theirs hot topics.
Chen Zaijun, Engineer of the Project Division of IMI Group
Many thanks to the organizers for providing us with a learning opportunity. We have learned a lot about the advanced equipment and technology of intelligent electronic manufacturing. It's a fruitful experience. Meanwhile, they are thoughtful to put in place the pre-exhibition organization, shuttle bus arrangement and reception services. As a result, our visit ended up convenient and smooth. Looking forward to LEAP Expo 2020.
Jin Yinbo, Head of the Equipment Maintenance Division of AOI Development Department, Dongguan Fuqiang Electronics Co., Ltd.
LEAP Expo 2019 had rich content and good effect. We have gained a lot from the automation equipment area. On the spot, we have technical exchanges with different manufacturers. In addition to the traditional manufacturers, there are also some new manufacturers. After the exhibition, we will have further negotiations with high-quality manufacturers. I wish LEAP a better future and a bigger scale next year.
Bai Renjun, Engineer of Dechang Electromechanical (Shenzhen) Co., Ltd.
I feel great about the LEAP Expo 2019 for the completeness and breadth of product range. I hope organizer can continue to make further development in South China and attract more outstanding exhibitors to display advanced products and equipment, not only building a good business platform for industrial exchanges in South China, but also contributing to the development of China's laser industry."
Du Zhongdong, Zibo Weitai Industrial Control Co., Ltd
I have been paying close attention to the application of 3D vision. I participated in the machine vision forum and it was a fruitful experience as I learned more products and technologies. From the exhibition, I noticed that machine vision has seen an increasingly wider application in the industrial field, especially the progress in industrial control and detection technology. VisionChina (ShenZhen) is a very good platform for communication and learning. I look forward to next year's exhibition.
According to the data of visitor survey, LEAP Expo has gained recognition and support from many audiences for takeing a diversified path. LEAP is committed to creating a professional, high-quality, highly efficient industry exhibition, so as to provide the professional audience buyers with a communication and learning platform that covers the industry upstream and downstream, the popular and cutting-edge vertical fields.
LEAP Expo 2020 will be upgraded to a five-exhibition event, covering the whole industrial chain of intelligent manufacturing and electronic innovation, presenting semiconductor technology, electronic components, components and systems, as well as advanced manufacturing, assembly, automation, laser and machine vision technologies.
In the meantime, the organizer will continue to take a professional attitude and give full play to the advantages of the multi-exhibition brand integration, to accurately invite industry audience buyers and enrich the audience groups. Besides, it will create a whole industry chain platform for intelligent manufacturing and electronics innovation, while forging ahead in the South China market confronted with both opportunities and challenges.