How Many Secrets Are Hidden in LEAP Expo Exhibitor Data?
Time:     Author:     
Messe München Shanghai Co., Ltd., working in conjunction with China Council for the Promotion of International Trade Machinery Sub-Council, Laser Processing Committee of COS and China Machine Vision Industry Union, hosts LEAP Expo 2020 at Shenzhen World Exhibition & Convention Center on November 3-5. LEAP Expo 2020 will be fully upgraded with a synergy of five exhibitions: Automation & EMA, productronica South China, Laser South China, electronica South China, and VisionChina (ShenZhen) which took place during the same period.
The brand-new LEAP Expo displays the dogged determination of the organizers to focus on the South China market and upgrade its services to industries. At present, the booths are witnessing great reservations. In case you feel like knowing with whom you will showcase together the innovative technology and products or what kinds of enterprises you will see in LEAP Expo 2020, we hereby reveal the secrets hidden in the LEAP Expo exhibitor data.
The number of exhibitors at LEAP Expo registers a record high. As a grand event of electronic and intelligent manufacturing industry in South China, the exhibition has attracted nearly 400 participating enterprises.
01 Overall Assessment
94% exhibitors were very satisfied with LEAP Expo 2019
89% exhibitors will increase or maintain investment at LEAP Expo 2020
88% exhibitors benefited from exhibiting
87% exhibitors will exhibit LEAP Expo 2020
74% exhibitors will recommend LEAP Expo to business partners or colleagues
02 Exhibitors' objective
The survey shows that the proportions of various purposes do not make a big difference, despite the diversified purposes of exhibitors. In other words, exhibitors are no longer confined to a specific purpose, and yet they take into account the impact of the exhibition on them in a more comprehensive manner. For this year's LEAP Expo, more than 70% of the exhibitors expected to promote company's image and products through the exhibition and get prepared for future business transactions. In addition, many exhibitors aimed to conduct experience exchanges and build up new business relationship.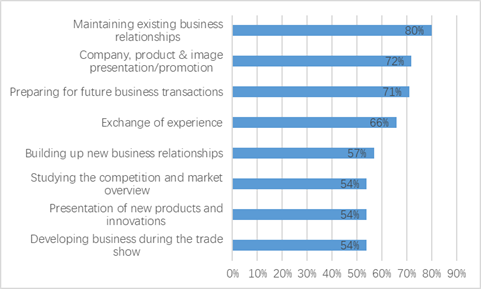 03 Production Types
By means of presenting Automation and Robotics, Intelligent Electronic Manufacturing Solutions, Wire Harness Processing and Connection Technology, Dispensing Equipment and Material, Advanced Laser and Laser Processing, Machine Vision and Application, along with a special area for Smart Factory, LEAP Expo gave rise to cross-industry integration, connected the whole industrial chain and offerd an interactive and exchange platform intended for upstream and downstream enterprises, thus receiving praises from exhibitors.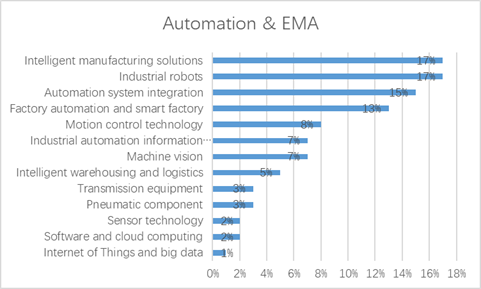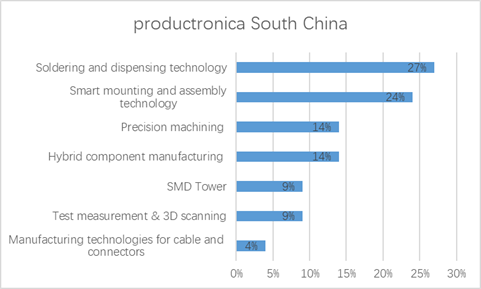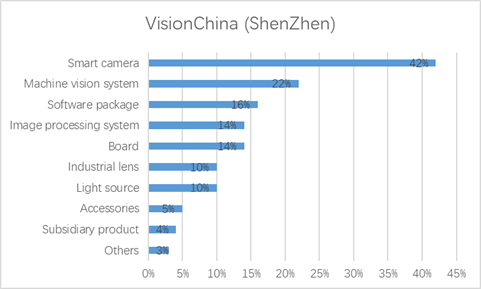 04 Exhibitors' Comments
LEAP Expo 2019, held by Messe München Shanghai Co., Ltd., is well known in the industry both in terms of the quality of exhibitors and the professionalism of visitor organization. Hexagon, as the original exhibitor of LEAP Expo, hopes that LEAP Expo 2020 will grow into a better platform for communication of new technologies in the electronics industry in south China.
Guo Chen, Deputy Director of Operations, Hexagon (Sweden)
The influence of LEAP Expo in the SMT industry is growing constantly. Mycronic has very high expectations for this exhibition and we can see many customers visit the exhibition with target. I hope that LEAP Expo 2020 will organize more high-end summits effectively and attract more customers after being relocated to new venue.
Hongjun Chen, General manager of Greater China, Micronic (Shanghai) Co., Ltd.
The cooperation between Kurtz Ersa and LEAP is getting deeper and deeper. At LEAP Expo 2019, we held the 5G Smart Welding Competition for first time. We are very happy to carry out long-term strategic and in-depth cooperation with LEAP. We will display more preferred equipment to customers and develop together with our customers through such a professional event platform.
Jianhao Xie, Deputy General Manager, Kurtz Ersa Asia Limited.
Targeting the laser processing market in South China, LEAP Expo 2019 focused on the electronics and automotive industries, while radiating the metal processing industry, moulding industry, home appliances, communications and other industries, to provide personalized laser processing, intelligent manufacturing products and industrial solutions for potential users of laser processing in south China. I have full confidence in the development of LEAP and I wish the Laser South China a better future.
Jianfeng Zeng, Brand Director, Maxphotonics Co.,Ltd
This is our first time to participate in VisionChina (ShenZhen) and we feel very satisfied. Machine vision develops very rapidly in China and we have been always focusing on the Chinese market. During the exhibition, we have met some screen and equipment manufacturers. We have always wanted to cooperate with them and it is very conducive to our cooperation expansion. The relocation to a new venue next year will make it easier for us to participate.
Xiaoxi Li, General Sales Manager, LAONPEOPLE
05 Some Participating Brands into LEAP Expo
LEAP Expo has attracted many exhibitors, covering Automation and Robotics, Machine Vision, Electronic Manufacturing and Assembly, Wire Processing and Connection Technology, Laser Processing and other sectors. The organizers strive to help exhibitors hunt for new customers and consolidate their market position.
The success of LEAP Expo cannot be alienated from the strong support of exhibitors and visitors. In 2020, LEAP Expo will be upgraded to a five-exhibition event, covering the whole industrial chain of intelligent manufacturing and electronic innovation, presenting semiconductor technology, electronic components, components and systems, as well as advanced manufacturing, assembly, automation, laser and machine vision technologies.
Continuing to expand its brand influence and starting from the exhibitions, LEAP will head towards the future of intelligent manufacturing and electronic innovation to meet the booming industrial demand in South China and inject vitality into the development of the industry.